Happy Halloween Friends!!,
It's Lisa from Learning Is Something To Treasure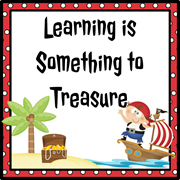 and I'm stopping by to join in the Halloween Pin paar-tay!!
Now I just absolutely L-O-V-E Halloween for so many reasons...watching my little one trick or treat, cutesy crafts, and yummy candy, just to name a few. Here are some of my favorite Halloween pins that I have stashed away:
I'm starting with the treats:
The top treat to make on my list for my kiddos are these awesome witch cupcakes! Aren't they adorbs?!
These monster pudding cups are an easy prep and a cute way to celebrate.
Do you like rice krispie treats?? Here are a few Halloween themed krispie treats! =)
This Halloween bark looks TDF!!! I don't think it would make it out of my house!
Now on to some of my favorite Halloween crafts:
I HAVE to make this!!! LOVE IT!!!
The following are some more of my favs...
I am going to try making this Halloween gingerbread house with my daughter this year. I thought it was a cute idea...
And finally my favorite Halloween makeup pin!:
Super cute, but I don't think that mine would come out so perfect ;).
I hope you have enjoyed some of these fun ideas. I hope that your Halloween is a treat!!
Until the next time my friends!,