Hey it's Amber from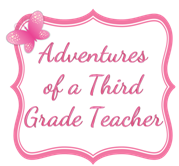 Can you believe that it's already time to go back to school?
I'm not going to lie. I've been awfully focused on creating a super cute and fun classroom!
But, what about those first few days of school?
Here are some pins I've found that can give us some help and inspiration! Click on each picture to go to the original pin.
Great way to start a discussion, open up and share!
Love this! Students bring in pictures of their family and share with the class. Then they are added to the bulletin board.
A Recipe for Success!
A way to keep them busy while you have a gazillion forms to fill out. A Great getting to know you activity!
Love this contract.
So cute!
I know this was probably for younger grades, but I bet my third graders would still like it!
Ok, I know this isn't an acitivity. But, it's SOOO cute!
Have you found some great pins to help out your plans?
Good luck this year! I hope it's Pintastic!